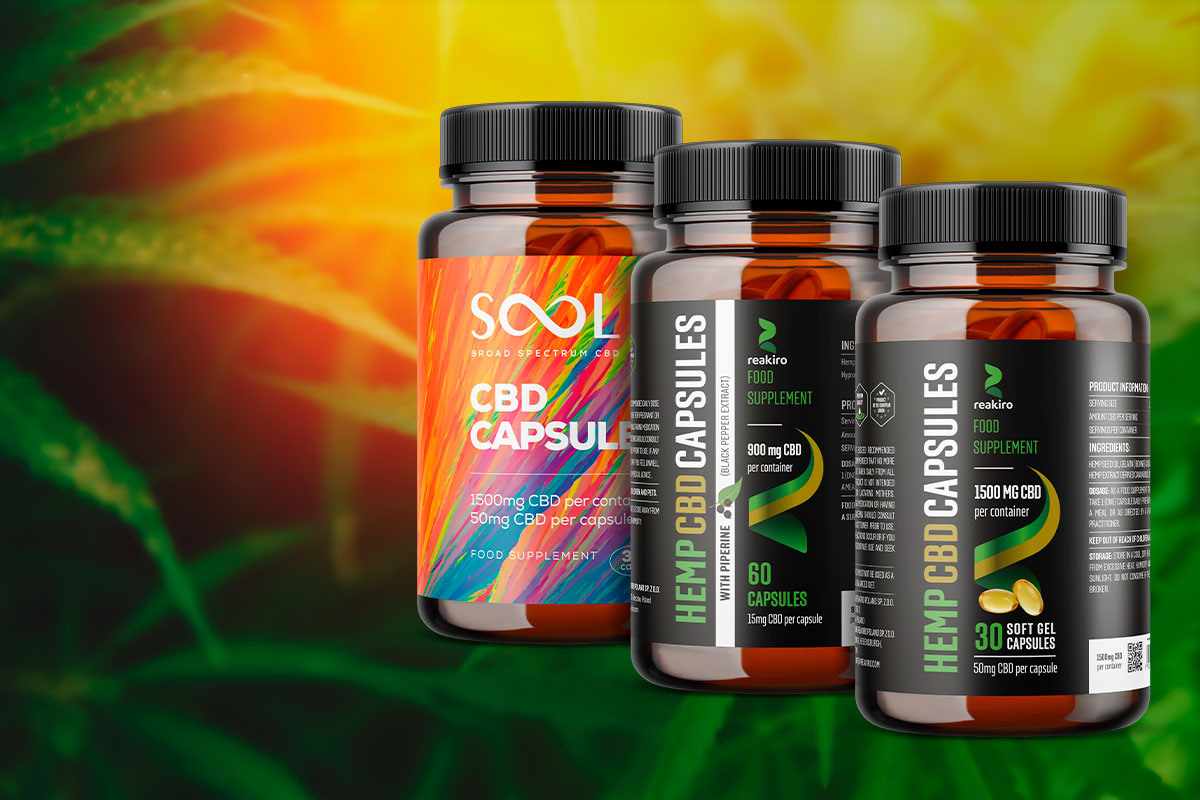 Shop CBD Capsules at Reakiro's Official EU e-Store and discover premium CBD oil enclosed in our capsules
Drawing from our deep understanding of the CBD world, we've perfected the art of extracting hemp to craft top-notch products. If you're shopping from the EU, you're in for a treat with our exceptional cannabidiol capsules that keep CBD and its beneficial compounds pure and potent.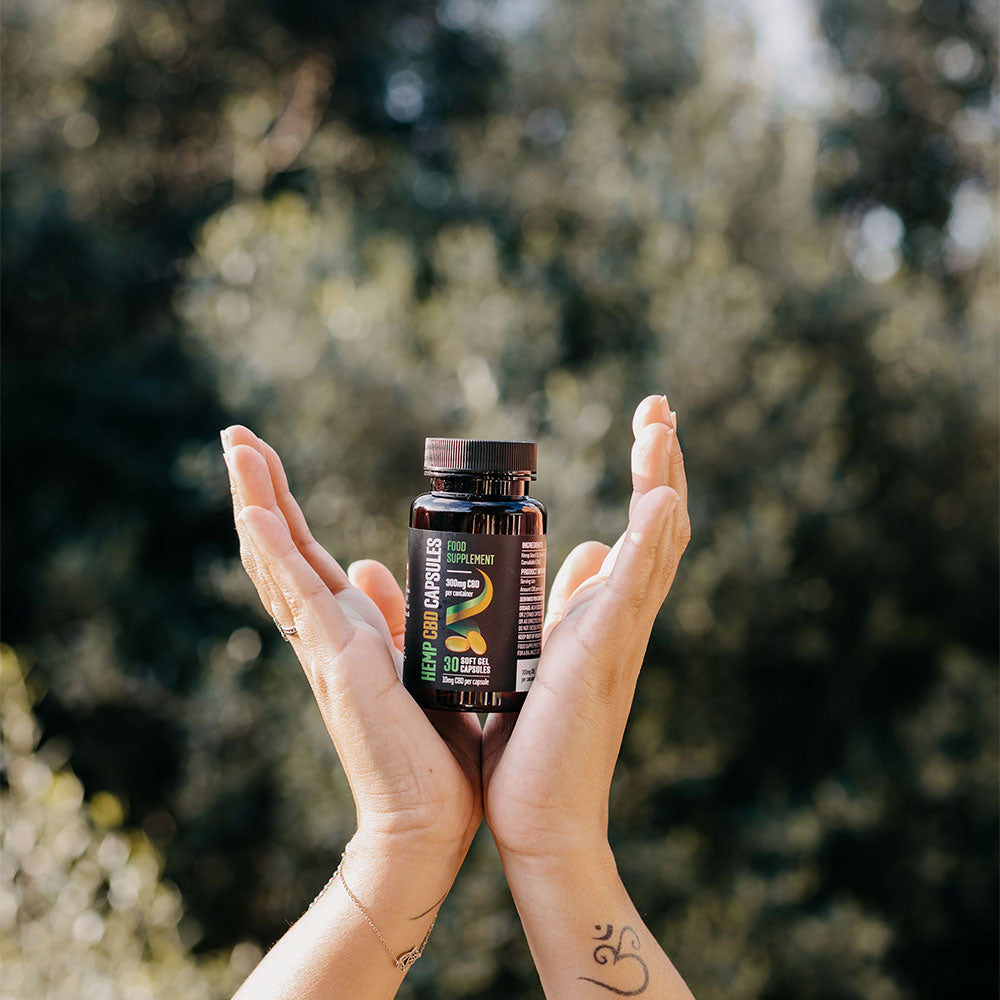 Reakiro's Award-Winning CBD Capsules
Discover the outstanding selection of CBD products available from Reakiro CBD, a collection that has garnered recognition and honors.
What sets Reakiro CBD capsules apart from the rest? Our cannabidiol capsules offer an incredibly convenient method of enjoying the benefits of CBD. Created by our skilled team, these capsules contain CBD oil encased in a digestible shell. Upon consumption, the casing dissolves, allowing for the absorption of CBD oil—a process reminiscent of taking vitamin tablets, now enhanced with CBD advantages.
Our capsules encapsulate premium CBD extract in a comprehensive full and broad-spectrum formulation, encompassing a range of cannabinoids, terpenes, and flavonoids sourced from hemp. CBD actively interacts with the endocannabinoid system, promoting overall health and vitality. Opt for Reakiro CBD capsules for an effective way to embrace the potential of CBD. Whether you're on-the-go or seamlessly incorporating CBD into your routine, our capsules provide the perfect solution.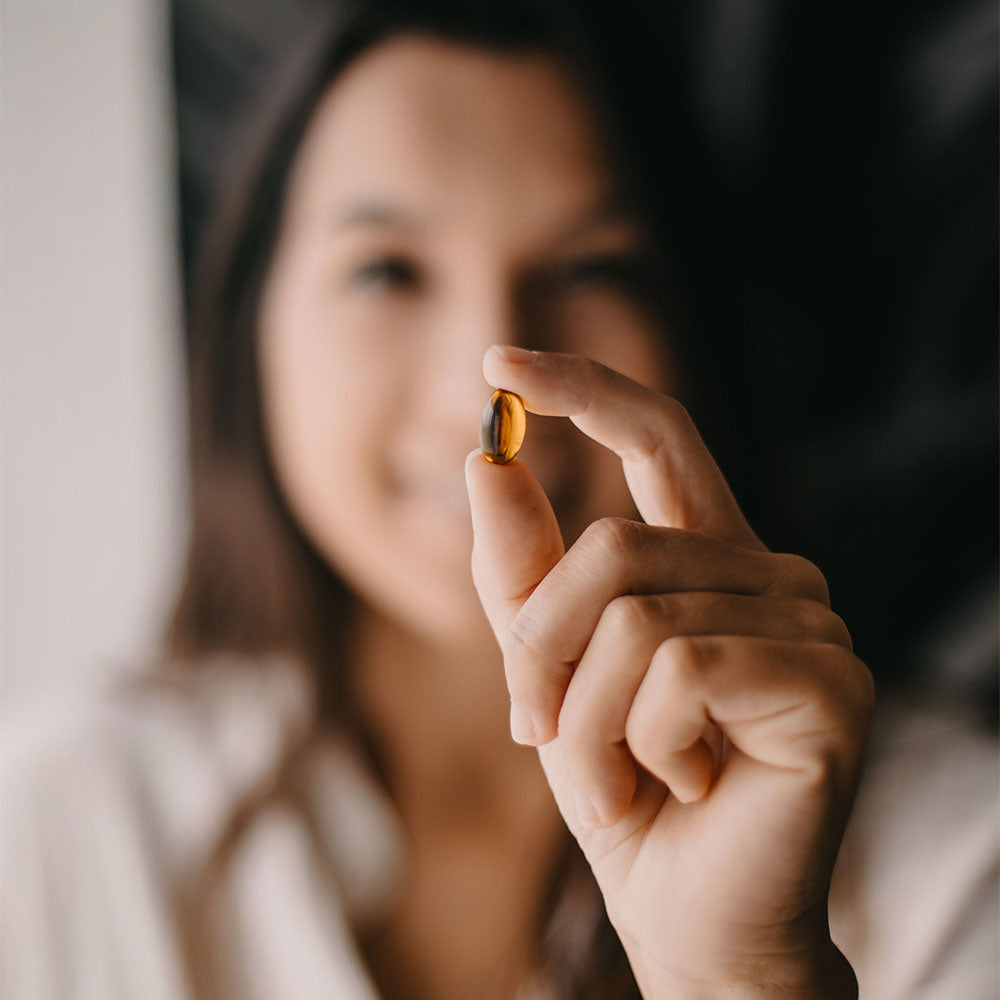 Choose the Best CBD Oil Capsules
Unveiling the Excellence of Reakiro CBD Capsules:
Premium CBD extract sourced from hemp.
Full and broad-spectrum formula capturing cannabinoids, terpenes, and flavonoids.
Expertly crafted for easy digestion and absorption.
Streamlined ingredients for purity and safety.
Additional options with CBD & Nutrition Vitamins.
Accurate and up-to-date lab reports available for transparency.
Lab reports (COA) include CBD, cannabinoid, and THC content.
Complies with EU regulations of having less than 0.2% THC in Cannabidiol capsules.
Ensuring 100% confidence in the quality and effectiveness of our CBD oil capsules.
Ingredients That Distinguish Our CBD Capsules
At Reakiro CBD EU, our commitment to your well-being distinguishes our premium CBD capsules. We understand the significance of comprehensive well-being and prioritize your health by avoiding additives and unnecessary components in our products.
Our CBD capsules primarily comprise two key ingredients: Hemp seed oil and CBD derived from hemp extract.
Moreover, we offer specialized CBD with Nutrition Vitamins capsules, as well as vegan CBD capsules infused with black pepper extract for enhanced health benefits.
SOOL Broad-Spectrum CBD Oil Capsules
Within these capsules, you'll find CBD, accompanied by an array of other cannabinoids, flavonoids, and terpenes, all while maintaining a THC-free* composition. For those cautious about the potential effects of THC, these products offer a sense of security. It's important to mention that full-spectrum CBD does contain trace amounts of THC. However, for those who lean toward a preference for broad-spectrum CBD capsules, the choice is entirely yours. Our pride lies in our ability to cater to individual preferences through our diverse range of products.
*The THC level falls below LOQ 0.0025%
Reakiro Full-Spectrum CBD Oil Capsules
Within Reakiro's full-spectrum cannabidiol capsules, you'll discover a significant CBD content paired with a THC concentration of less than 0.2%, all combined with a harmonious blend of cannabinoids, flavonoids, and terpenes. This meticulous formulation serves to amplify the overall effectiveness of these capsules.
FAQs: CBD Capsules
Ensuring clarity and transparency for our customers during their purchases from our store is of utmost importance to us. Therefore, we have taken the initiative to address a variety of frequently asked questions related to our CBD capsule products.
Collapsible content
What are the benefits of CBD capsules?

The advantages offered by CBD capsules can vary based on the specific products you choose. Upon exploring our range, you'll discover capsules designed to potentially support various aspects of your well-being:

Enhancing Immune Function
Boosting Metabolism
Sustaining Energy Levels
Promoting Skin Health
Supporting Omega-3 Intake

Moreover, you have the opportunity to explore the potential benefits of cannabidiol itself. These effects stem from CBD's interaction with the endocannabinoid system and its anti-inflammatory properties.


Incorporating CBD capsules into your daily routine might contribute to a sense of tranquility and effective stress management. Embark on a journey to uncover the potential advantages of CBD capsules tailored to your specific health objectives.


It's important to note that while CBD holds promise in these areas, further research is necessary to fully comprehend its mechanisms of action and potential benefits. As individual responses to CBD can vary, seeking guidance from a healthcare professional before starting any new supplement regimen—particularly if you have pre-existing medical conditions or are taking other medications—is a prudent step.
CBD Capsules vs. CBD Oil: What is the difference?

CBD Capsules and CBD Oil are both popular methods of consuming CBD, but they differ in terms of their form, usage, and effects.

Reakiro CBD capsules provide a convenient way to experience the benefits of premium quality CBD oil. Designed for those with busy lifestyles, these capsules offer an easy and efficient method of incorporating CBD into your daily routine.
How to Use CBD Capsules?

Taking CBD capsules is as simple as swallowing them with a sip of water. Refer to the instructions on your CBD capsules packaging to determine the appropriate dosage for your needs.

Dosing and Usage Guidelines for Reakiro CBD Capsules

Unlike other products available on the Reakiro website, our capsules are meant to be ingested orally. While CBD oils and sprays offer versatility in their usage, capsules are specifically designed for oral consumption. Here's how to get started:

Check Recommended Serving Size: Begin by reviewing the product packaging to determine the recommended serving size. For most of our capsules, the standard serving size is two tablets per day.
Follow Packaging Instructions: Follow the instructions provided on the packaging. Simply swallow the capsules with water as directed.
Start with a Smaller Dose: If you're new to CBD, we advise starting with a lower dosage capsule. Begin with the recommended dosage and observe if you experience the expected benefits.
Adjust Dosage as Needed: If you find the initial dosage insufficient, you can gradually increase the serving size. It's important to monitor how your body responds.
Consider Individual Factors: CBD tolerance varies based on factors like height and weight. Someone with a larger build might need a higher CBD dosage compared to someone of smaller stature.
Max Daily Dose: Do not exceed the recommended daily dose. It is recommended that no more than 70 mg CBD is taken daily from all sources.
Consistency Matters: Take your capsules consistently for a few weeks to gauge their effects. If you don't experience the desired effects, consider slightly increasing the dosage.

Remember, finding the optimal CBD dosage is a personalized process. It's advisable to consult with a healthcare professional before making significant changes to your CBD regimen.
When Can You Expect CBD Capsules to Take Effect?

It typically takes around one to two hours for the effects of CBD capsules to become noticeable in your body and mind. The capsules need to pass through your digestive system before entering your bloodstream. From there, they disperse throughout your body, delivering the desired effects.
Where to Purchase CBD Capsules in the EU?

For high-quality CBD Capsules in the EU, visit the Reakiro CBD Official e-Shop. Explore a range of other CBD products in our store, such as CBD Gummies, CBD Oil, CBD Sprays, and more. Discover everything we offer on our website and find the perfect CBD solution for you.

At Reakiro, our CBD products stand as a source of immense pride. As award-winning manufacturers and retailers of CBD capsules in Europe, we've honed our craft over 6 years in the CBD industry. Our journey has led us to master the art of refining hemp to create unparalleled CBD offerings. Here's what sets our CBD capsules apart:

High-Strength Formulation: Our customers receive high-strength capsules designed to deliver optimal potency. We prioritize minimal ingredients to preserve the purity of CBD and cannabinoids within each capsule.
Compliance and Safety: All of Reakiro's CBD capsules adhere to current EU laws and regulations. Your wellbeing is our priority, ensuring that our products are safe for consumption. This commitment extends to your overall health.
Transparency Through Lab Reports: Our dedication to transparency is evident in our lab reports. These reports provide insight into the contents of each CBD capsule and their safety. You can access these reports for added confidence in our products.

Ordering your CBD oil capsules from Reakiro is now more convenient than ever. Explore our comprehensive collection online, selecting products that align with your health and wellbeing goals. Our capsules are available in a range of strengths, from 10mg to 50mg per capsule, catering to various bodily functions.

Our Reakiro team is always ready to assist you. If you have questions or need guidance before making a purchase, feel free to reach out to us. Your satisfaction and wellbeing remain our top priorities.
Explore Further Reakiro CBD Offerings