CBD Oils You Can Trust
Reakiro's Award-Winning CBD Oils to Enhance Your Wellness Journey
Uncover the utmost quality of Reakiro's CBD Oil range – featuring our exceptional full-spectrum and broad-spectrum CBD tinctures. Years of meticulous research have led to the creation of this treasured product, a testament to our unwavering commitment to excellence. Crafted from the finest industrial hemp, cultivated under optimal conditions, our natural and vegan-friendly CBD oil stands as a pinnacle of quality.
Reakiro's Premium Broad & Full Spectrum CBD Oil in Europe
Reakiro stands at the forefront of the leading CBD oil brands in the EU. After an exhaustive global search spanning years, the Reakiro team employed a meticulous CBD extraction process to craft the finest full and broad-spectrum CBD oil drops that define Reakiro's offerings today.
Our distinction has been solidified by an unbiased review board, ranking us as the number 1 among the best CBD oil EU brands, as acclaimed in the prestigious World CBD Awards 2022.
Explore Reakiro's CBD Oil Range and Elevate Your Wellbeing
Discover Reakiro's exceptional selection of CBD oils, thoughtfully curated to meet a range of wellness needs. Our CBD oil range reflects our unwavering dedication to excellence and innovation, honed through extensive research and development.
Each product within our CBD oil range underscores our commitment to quality, ensuring that you harness the full benefits of hemp in every drop. From full spectrum to broad-spectrum options, Reakiro's CBD oil collection provides versatile choices that align with your personal wellness journey.
Unleash the potency of nature in every drop as you embark on a path to enhanced wellbeing with Reakiro's CBD tincture range.
Full-spectrum CBD Oil Range:
Reakiro CBD Oil 300mg
Reakiro CBD Oil 500mg
Reakiro CBD Oil 1000mg
Reakiro CBD Oil 1500mg
Reakiro High-strength CBD Oil 2000mg
Broad-spectrum CBD Oil Range:
SOOL CBD Oil 500mg
SOOL CBD Oil 1000mg
SOOL CBD Oil 1500mg
SOOL High-strength CBD Oil 3000mg

Trust in Reakiro's commitment to quality and transparency as you explore our premium CBD oil offerings.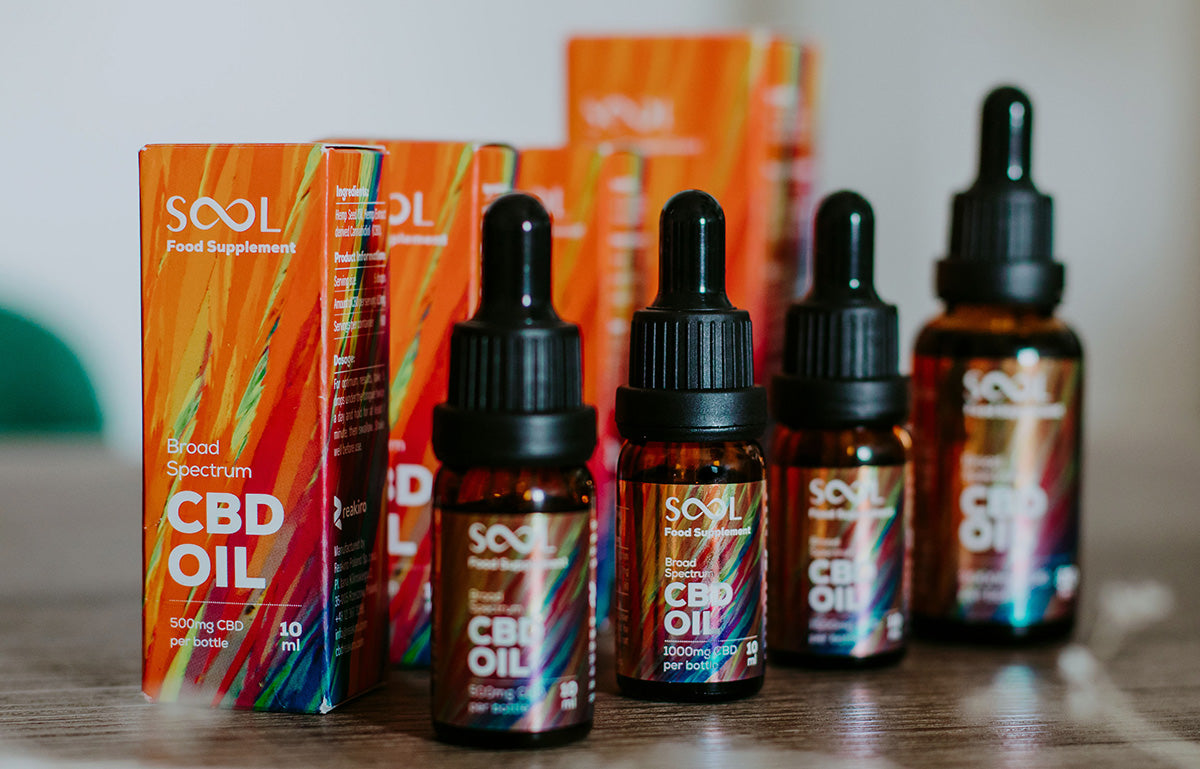 Experience the Exceptional: Why Reakiro's CBD Oils Lead the Way
Amidst the abundant CBD oil choices, Reakiro shines as a beacon of excellence, showcasing our complete mastery of the production journey. Each precise step, from extraction to delivery, is thoughtfully orchestrated, setting us distinctly apart.
Our steadfast commitment to organic practices ensures that every drop of our CBD oils embodies purity, quality, and consistent excellence. But what truly ignites the demand for our CBD oils?
With a rich legacy in crafting a diverse range of CBD products, Reakiro has perfected both the art and science of CBD manufacturing and retailing. This expertise shines as we shepherd our products from seed to sale, embracing our unwavering mission—to provide the finest CBD oil and an array of top-tier CBD options to discerning shoppers worldwide.
Ensuring Top-Quality of Reakiro CBD Oil Drops: Rigorous Testing and Control
HACCP, GMP, CHP certified facility

Our CBD oil undergoes advanced hyper cryogenic ethanol extraction in our own HACCP, GMP, CHP certified facility
Uncompromising Quality Assurance at Reakiro

At Reakiro, product quality is paramount. We go the extra mile to guarantee that every product that reaches the market meets the highest standards.
Our quality control process involves meticulous testing and usage within specially designed controlled environments. Equipped to industry-leading standards, our laboratories employ advanced GC-MS (gas chromatography/mass spectrometry) for comprehensive sample analysis.
Ensuring THC Compliance

Maintaining THC Levels Below 0.2%

Reakiro CBD's Commitment to Transparency and Quality:

To adhere to legal requirements, our CBD products ensure that THC content remains below 0.2%. This guarantee is substantiated by independent lab reports, a vital factor in instilling consumer confidence. Reakiro CBD places meticulous emphasis on due diligence to ensure transparency, consistency, and the highest product quality.
For your informed decision-making, each product card on our website includes a Lab Report (Certificate of Analysis - COA). We uphold transparency by publicly publishing all third-party lab reports (COA), fostering trust. There are no hidden results or exclusivity – just unwavering openness.
Third-Party Lab Testing (COA)

Each batch undergoes rigorous third-party lab testing, ensuring consistent quality, purity, and safety throughout the production process.
Elevate Your Lifestyle with Reakiro's Effortless CBD Oil Integration
Discover the simplicity of incorporating Reakiro's CBD oil into your daily routine. Whether a few drops under your tongue or blended into your preferred meals and drinks, enjoy the convenience of full-spectrum cannabidiol oil. Immerse yourself in the natural essence of cannabis oil, a gateway to holistic wellness. Unveil the potential of nature and revitalize with Reakiro's exceptional Cannabidiol oils.
CBD Oils FAQs
Is CBD (cannabidiol) Oil legal in EU?

CBD is among the more than 100 cannabinoid substances found in the whole cannabis plant and hemp plant. Also, the greater well-known cannabinoid is definitely tetrahydrocannabinol (THC). CBD and THC are available in both hemp plants and cannabis.

CBD Oil EU legality

Good news for wellness enthusiasts: CBD is enjoying legal status in numerous European countries and across the globe.

The key lies in the source – the raw material within these products must stem from the industrial hemp strains of Cannabis Sativa L listed in the EU's Common Catalogue of Varieties of Agricultural Plant Species, all with a THC content not exceeding 0.2% (some countries allow up to 0.3%THC).

Please bear in mind that the laws specific to each country can differ, thus we highly advise that you verify regulations at the local level before making any online purchases of CBD oil.

Here at Reakiro CBD, rest assured that we're steadfastly adhering to all legal guidelines. When you choose our CBD products, you're making a secure choice. Our commitment to compliance ensures that you can shop with confidence, knowing that every purchase aligns with the established regulations. Experience the full potential of CBD with peace of mind, courtesy of Reakiro's stringent commitment to legality and quality.
What does 'full-spectrum' mean for CBD oil in the EU?

Full Spectrum CBD is an extract that contains all compounds found naturally occurring in the plant, including terpenes, essential oils, and other cannabinoids. The hemp plant has nearly 400 active ingredients...and full spectrum hemp/CBD oil contains most of them. 

The full spectrum of cannabinoids, terpenes, flavonoids, antioxidants, healthy fats, and essential oils extracted from the plant work together to magnify the benefits of each individual cannabinoid. This is commonly referred to as the "entourage effect." Research shows that products that combine full-spectrum CBD oil and terpenes (like our products) are up to four times stronger than products that contain CBD alone! 

What's the Difference Between Full-spectrum CBD Oil and Broad-spectrum CBD Oil?

The distinction between full-spectrum and broad-spectrum CBD oils lies in their composition, determining the range of potential health benefits they offer. Reakiro CBD provides two distinct product lines catering to varying preferences: the premium Reakiro full-spectrum CBD Oil EU line and the broad-spectrum CBD from SOOL by Reakiro.
Here's a breakdown of the differences:
Reakiro Full-spectrum CBD Oils:

Contain a high CBD content and low THC levels (below the 0.2% legal limit).
Encompass other cannabinoids, flavonoids, and terpenes, maximizing the entourage effect for enhanced benefits.

SOOL Broad-Spectrum CBD Oils:

Consist of CBD, other cannabinoids, flavonoids, and terpenes.
Completely THC-free (THC level is below LOQ 0.0025%).
Ideal for individuals concerned about potential psychoactive effects associated with THC (tetrahydrocannabinol).
How does full spectrum CBD oil make you feel?

To put it super simply, really good! While CBD oil won't get you high, it can still affect your mood. Some of our customers notice that a mental fog has left their inner framework...making them free to feel calm and uplifted.
The effects of full-spectrum CBD oil can vary from person to person and depend on factors such as dosage, individual body chemistry, and the specific product you're using.
It's important to note that full-spectrum CBD oil should not produce a "high" like THC-dominant cannabis products. The trace amounts of THC are usually not enough to cause psychoactive effects, but they can contribute to the entourage effect and potentially enhance the overall therapeutic experience.
As everyone's body reacts differently, it's advisable to start with a lower dose of full-spectrum CBD oil and gradually increase it as needed while observing how it affects you.
What is the strongest full-spectrum CBD oil?

Among our extensive range of high-quality CBD products, Reakiro proudly offers one of the strongest full-spectrum CBD oils available – our potent 2000 mg Cannabidiol formulation contained within a 10 ml bottle, equating to a robust 20% CBD concentration. This exceptional 20% CBD oil stands as a testament to our commitment to providing powerful and effective options for your wellness journey.
Where can I buy CBD oil in the EU?

Easily purchase your CBD oil EU online from our website cbdreakiro.com! Sign up for our newsletter and receive a special introductory code. Enjoy unique deals, promotional codes, and monthly newsletters tailored just for you.
What Constitutes the Ingredients in Reakiro CBD Oils?

CBD and Other Cannabinoids. It's imperative that your CBD oil contains CBD along with other beneficial cannabinoids.
Hemp Seed Oil. Many CBD and hemp oil products aren't solely hemp-derived. Some brands incorporate other elements to alter taste, enhance consistency, and amplify health benefits. At Reakiro CBD, hemp-derived CBD always remains the focal point—the core ingredient of your CBD oil. For precise information, refer to the "Ingredients" tab on the respective product page.
Explore More Reakiro CBD Products