Apple & Lemon Flavour
Regular price
€29,99
Sale price
€13,99
Unit price
per
- 53%
Sold out
You save €16.0
SOOL 300mg Apple & Lemon Gummies – our latest addition, perfect for those new to CBD and looking for a flavorful experience. They boast a chewy texture, delightful sweetness, and are infused with the natural goodness of the hemp plant, offering a delightful way to experience holistic wellness.
Bottle

30 pcs

CBD

300mg

Serving

1 gummy
Dosage & Instructions

Product information:

Serving size 1 gummy
Amount CBD per serving 10mg
Servings per container 30.

As a food supplement, take 1 (one) or 2 (two) gummies daily or as directed by a healthcare practitioner.

Storage: Store in a cool, dry place away from excessive heat, humidity, and direct sunlight. Do not consume if the seal is broken. This product is not intended to diagnose, treat, cure or prevent any disease.

Caution: Do not exceed the recommended daily dose. It is recommended that no more than 70 mg CBD is taken daily from all sources. This product is not intended for pregnant or lactating mothers.  Individuals taking medication or having any medical concerns should consult with a health practitioner prior to use. If any adverse reactions occur or if you feel unwell, discontinue use and seek medical advice, your medical condition has deteriorated, discontinue use and seek medical advice.  

Food Supplements must not be used as a substitute for a balanced diet.

Keep out of the reach of children and pets.

*The THC level is below LOQ 0.0025% 
Ingredients

Glucose syrup, Thickener (Gelatin), Acidity regulator (Citric acid), flavourings, Colours (chlorophyll copper complexes, curcumin), Preservative (Potassium sorbate), Hemp Extract derived Cannabidiol (CBD), Rapeseed oil.
Reviews & Rating

Leave or Read our Reviews
Share
View full details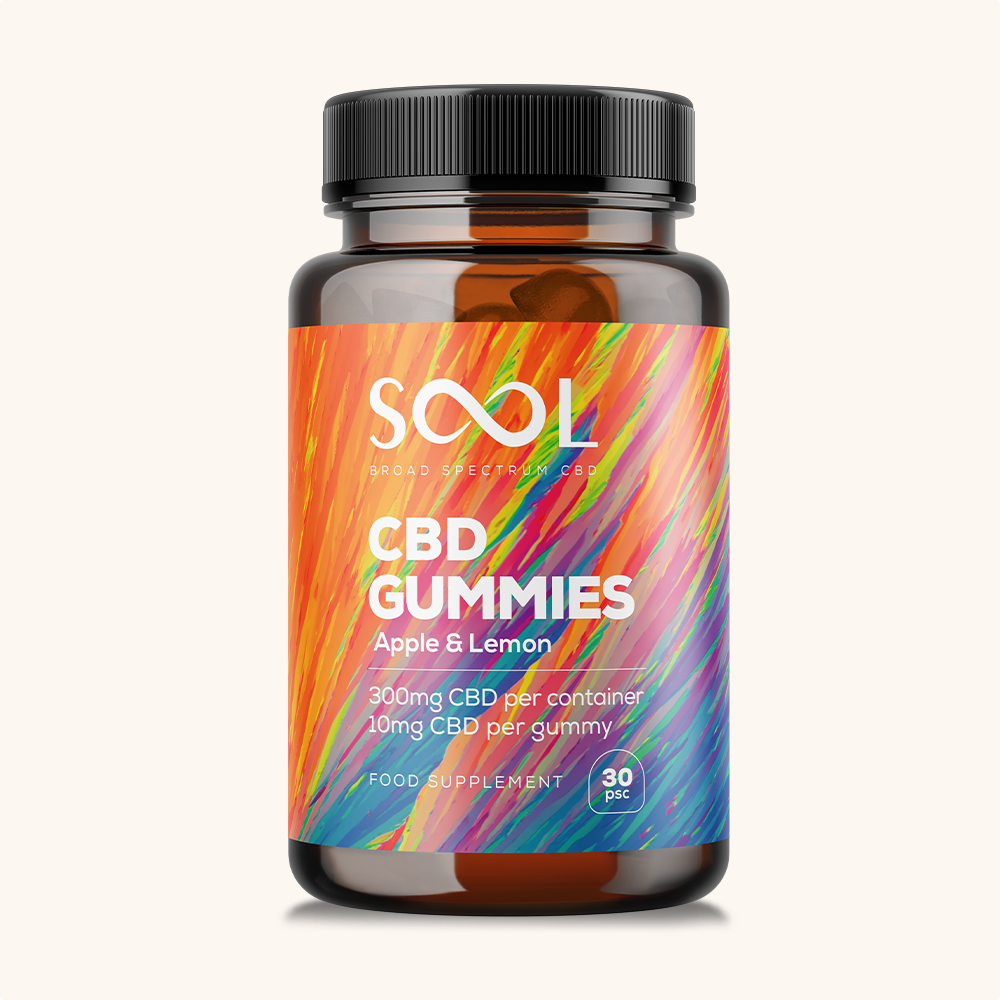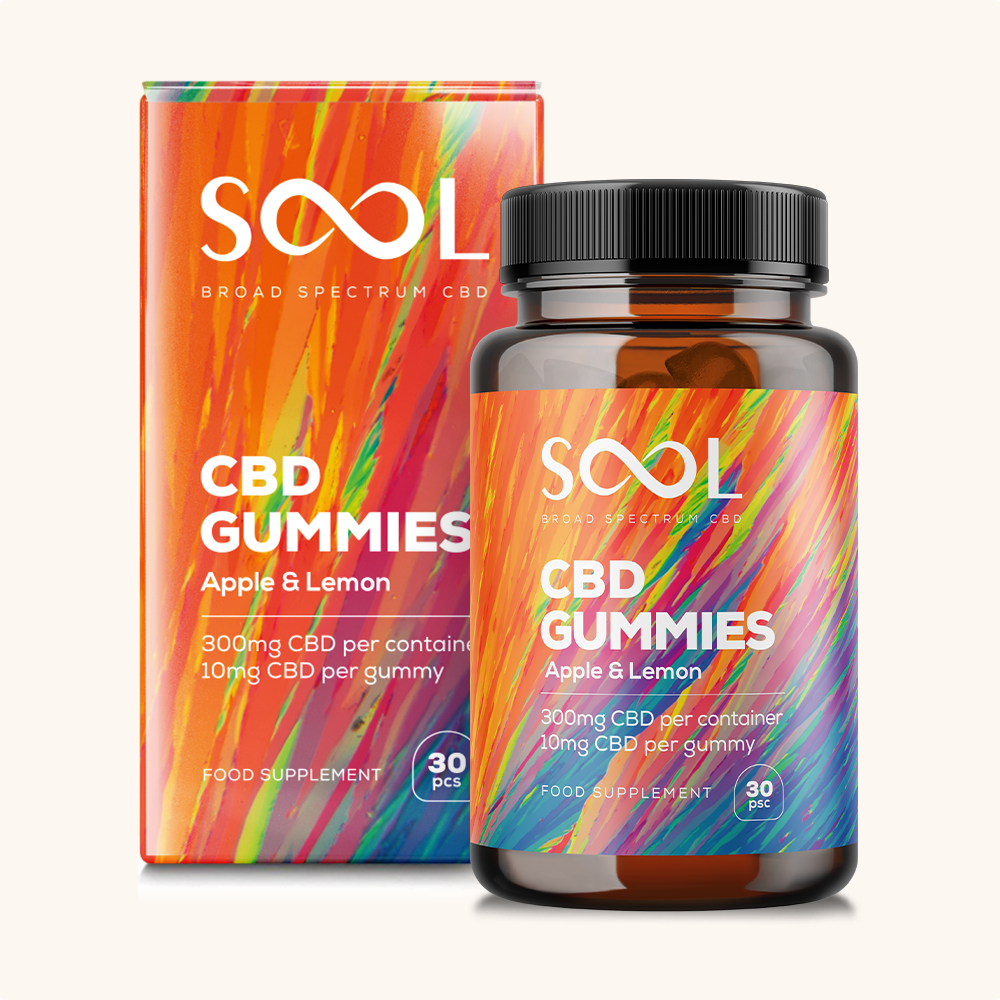 ---
Award Winning Brand

Made in Europe

Lab Tested

Blended with Hemp seed oil
---
SOOL CBD Gummies: Taste the Power, Experience Holistic Wellness
Taking CBD is an enriching experience, but did you know that it can be fantastically flavourful too? SOOL gummies will give you a hard time believing that something that tastes so good and is so fun to consume, also carries loads of therapeutic benefitsl.
Our Apple & Lemon Gummies guarantee a THC-free* experience, yet maintain a rich array of cannabinoids and terpenes. Infused with the flavors of apple and lime in a broad spectrum CBD profile, these gummies allow for effortless and precise dosing, effortlessly fitting into your daily routine.
*The THC level is below LOQ 0.0025%
Apple & Lemon CBD Gummies: Where Quality Meets Flavourful Delight
Ensuring Quality at Every Step

Batch Identification: Each consumer-ready CBD gummy pack is clearly labeled with batch codes, enhancing transparency and confidence
Advanced Extraction: Leveraging cutting-edge extraction methods to maximize potency and efficiency, we ensure the highest quality CBD extraction in every gummy
Quality Control: From seed selection to product crafting, precise formulation, and packaging, Reakiro oversees every stage of CBD gummy production, ensuring uncompromised quality
Confirmed Purity: Our CBD gummies undergo rigorous testing to validate their quality and purity, providing a reliable and trustworthy product for your overall well-being
Nature's Essence: Thoughtfully sourced from natural or naturally derived elements, our CBD gummies encapsulate the best of nature for a truly enriching experience

Our Commitment to Excellence

Rigorous testing and commitment to high-quality standards ensure Quality, Consistency, and Transparency:

Thoughtfully Crafted CBD Gummies:

Created with expertise, each gummy offers a precise 10mg CBD dosage, ensuring an easy, delightful, and convenient month-long supply per container

Stringent THC Compliance:

Our gummies are guaranteed THC-Free* (*THC level below LOQ 0.0025%), providing assurance of a worry-free CBD experience

Promotes mindful use of CBD, suggesting a maximum daily dosage of 70mg for responsible and beneficial consumption

Exceptional Formulation of CBD Gummies:

Manufactured in certified facilities that follow HACCP and GMP standards, showcasing precision and excellence in every step of production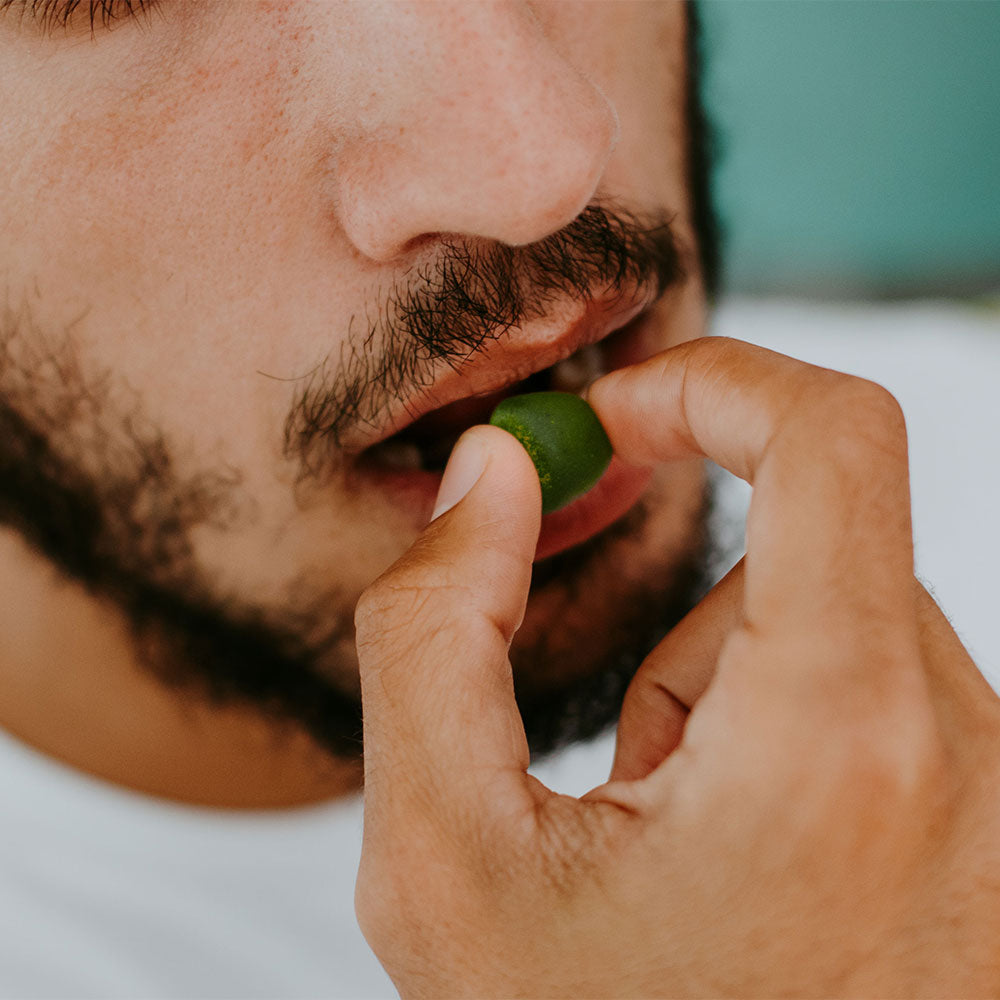 CBD Gummies 300mg 30pcs usage
SOOL CBD Gummies engage receptors within the body, a connection initiated after the molecules are absorbed into the bloodstream and digestive system. To enjoy, simply chew on a gummy, allowing for a flavorful experience. For optimal results, repeat twice daily, savoring a delightful dose of wellness. While CBD gummies complement a diet, they should not replace a well-rounded, nutritious one.
Collapsible content
Read more about SOOL Broad Spectrum CBD Gummies 300mg 30 pcs

Experience holistic wellness with our CBD gummies, meticulously crafted to optimise interaction between their molecules and receptors within your body.

As these CBD molecules are absorbed into the bloodstream and digestive system, they actively seek specific receptors, triggering an intriguing interplay that offers a key to various therapeutic benefits.

This process centers around the endocannabinoid system, an intricate network of receptors present throughout the body. This system plays a vital role in regulating numerous daily processes and experiences, encompassing mood, memory, appetite, and immune response. These receptors, named CB1 and CB2, act like keyholes awaiting engagement by the right key—CBD.

CB1 receptors are predominantly situated in the central nervous system, while CB2 receptors are mainly in the peripheral nervous system, particularly in immune cells. When CBD molecules bind to these receptors, a chain reaction begins, akin to toppling dominoes. This sets off a balanced response that can influence how we perceive stress, manage pain, and uphold overall well-being.

For instance, activating CB1 receptors may assist in managing pain and discomfort, offering a potential natural approach to relief. Simultaneously, engagement with CB2 receptors can support a more balanced immune response. This intricate interplay of receptors and CBD molecules highlights the promising potential of CBD gummies to enhance our daily wellness routines.

Discover a curated collection of CBD research, unveiling scientifically substantiated CBD benefits. Our goal is to provide evidence-based knowledge, empowering individuals to make informed choices regarding their wellness. Stay informed and uncover the possibilities of CBD through well-founded research insights.