Regular price
€44,99
Sale price
€44,99
Unit price
per
Sale
Sold out
🌟 Buy 1 Get 1 FREE 🌟 use code - WINTER at the checkout
CBD Spray Peppermint offers a quick and refreshing way to embrace the full spectrum of CBD's holistic benefits, accompanied by the delightful taste of peppermint. Incorporating CBD into your daily routine is effortless and pleasant, thanks to this simple spray. Each spritz is expertly measured for your convenience, making it easy to enjoy the positive effects on your well-being. Discover the perfect balance of quality and flavor in every spray of our CBD Spray, a true tribute to overall wellness.
Bottle

30 ml

CBD

1000mg

Serving

1-2 sprays
Dosage & Instructions

Product information:

Serving size 1-2 sprays
Amount CBD per serving 6.7 mg
Servings per container 150

Shake well before use. Use twice daily, or as needed. Spray 1 or 2 times under the tongue, and hold for at least 1 minute, then swallow.

Storage: Do not refrigerate store away from excessive heat, light and humidity.

Caution: Do not exceed the recommended daily dose. It is recommended that no more than 70mg CBD is taken daily from all sources. This product is not intended for pregnant or lactating mothers.  Individuals taking medicines or having any medical concerns should consult with a health practitioner prior to use. If any adverse reactions occur, discontinue use and consult your doctor. Seek medical advice if you feel unwell.

Keep out of reach of children and pets.

This product is not intended to diagnose, treat, cure or prevent any disease.
Lab Results (COA)

Batch 0623

Batch 1222

Batch 0922
Ingredients

Hemp Seed Oil, Hemp Extract derived Cannabidiol (CBD), Peppermint Flavouring.
Reviews & Rating

Leave or Read our Reviews
Share
View full details
---
Award Winning Brand

Vegan Friendly

Lab Tested

Blended with Hemp seed oil
---
Nourished by Nature: Reakiro's Full-Spectrum CBD Oil Spray
Reakiro's CBD oil spray is born from nature, crafted from purely natural components, embodying the complete spectrum of cannabinoids, terpenes, and other hemp-derived elements. This results in a high-quality full-spectrum product that amplifies potential benefits through their combined effectiveness, known as the entourage effect. Additionally, our CBD oil spray is thoughtfully enriched with natural flavoring elements, delivering a pleasant and enhanced experience that resonates with the essence of natural well-being.
Peppermint CBD Spray: Pure, Potent, and Precise.
Ensuring Quality at Every Step

Comprehensive oversight of the production journey, from seed to packaging
Advanced extraction techniques
Ddedication to maintaining quality control standards
Thorough testing of CBD oil products at each production stage
Comprehensive quality assurance testing by independent, registered third-party laboratories

Our Commitment to Excellence

Rigorous testing and commitment to high-quality standards ensure Quality, Consistency, and Transparency:

Derived from premium-grade, EU-certified seeds
A rich symphony of cannabinoids including CBG, CBN, and more
Free from harsh chemicals, pesticides, and heavy metals
100% natural ingredients
Gluten-free, vegan-friendly, and non-GMO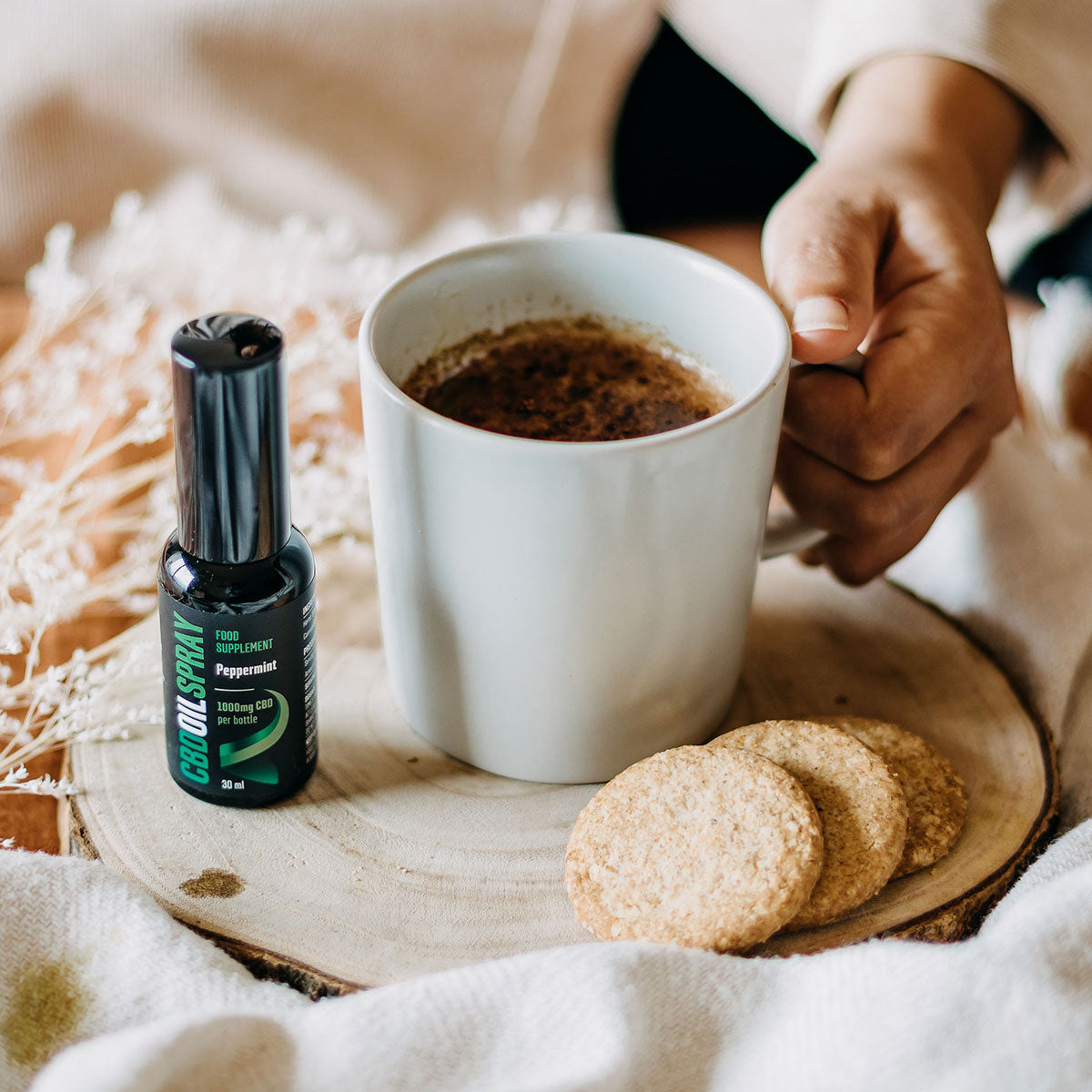 Reakiro CBD Spray 1000mg Peppermint Flavour - Full Spectrum usage
The CBD spray functions by interacting with receptors in the body that the molecules reach after absorption into the bloodstream and digestive system. It's essential to note that determining the right dosage can vary for each person based on factors like body weight, metabolism, and desired effects. This is why starting with a lower dose and gradually increasing it until the desired results are found is recommended (making sure not to exceed 70mg of CBD taken daily from all sources). Additionally, while CBD spray complements a balanced diet, it should never substitute a nutritious and well-rounded one.
Collapsible content
Read more about Reakiro CBD Spray 1000mg Peppermint Flavour

The full-spectrum CBD spray engages with the body's complex endocannabinoid system, a network of receptors scattered throughout the central and peripheral nervous systems. Opting for full-spectrum CBD offers the advantage of a wide array of cannabinoids, terpenes, and other beneficial components naturally found in the hemp plant. These elements collaborate synergistically, amplifying the overall therapeutic effects, a phenomenon referred to as the entourage effect. Similarly, using a CBD spray allows for swift absorption of CBD compounds into the bloodstream and digestive system when sprayed under the tongue, resulting in a rapid onset of potential benefits. The endocannabinoid system plays a vital role in maintaining various bodily functions, and the interaction with CBD helps regulate processes such as mood, sleep, appetite, pain perception, and immune response.

Reakiro has meticulously compiled an extensive research CBD database to inform consumers about the potential benefits of CBD. This initiative aims to educate individuals on how CBD can effectively address various issues, including sleep disturbances, pain relief, and inflammation. The thoughtfully organized collection of research materials serves as a valuable resource for those seeking well-informed decisions regarding CBD usage, fostering a deeper understanding of its potential positive impact on health and overall well-being.