Regular price
€44,99
Sale price
€44,99
Unit price
per
Sale
Sold out
🌟 Buy 1 Get 1 FREE 🌟 use code - WINTER at the checkout
Reakiro's CBD Omega 3 gel capsules, enriched with EPA and DHA, supply vital fatty acids essential for heart health and brain function. This unique blend aids in cell regulation, controls cholesterol, and reduces inflammation. Unlock a healthier you today—choose Reakiro's CBD Omega 3 gel capsules and nourish your body and mind!

Bottle

60 capsules

CBD

600mg

Serving

2 capsules
Dosage & Instructions

Product information:

600mg CBD per container
60 soft gel capsules
Servings per bottle 30

Take 2 (two) capsules daily. Do not exceed recommended dosage.

Storage: Do not refrigerate. Store away from excessive heat, light and humidity.

Caution: Do not exceed the recommended daily dose. It is recommended that no more than 70 mg CBD is taken daily from all sources. This product is not intended for pregnant or lactating mothers.  Individuals taking medicines or having medical concerns should consult with a health practitioner prior to use. If any adverse reactions occur, discontinue use and consult your doctor, seek medical advice if you feel unwell. Do not use the product as a substitute for a varied diet.

Keep out of reach of children.
Ingredients

Hemp Oil (Cannabis Sativa) seed extract, Fish Oil 33% EPA & 22% DHA, Cannabidiol (CBD) from Hemp Extract, Rosemary (Rosmarinus Officinalis) leaves CO2 Extract, Tangerine Essential Oil (Citrus Reticulata) Peel, Lemon Essential Oil (Citrus Limon) Peel, D-Alpha-Tocopherol.

Capsule: Geletin (Animal), Vegetal Glycerine.
Reviews & Rating

Leave or Read our Reviews
Share
View full details
---
Award Winning Brand

Made in Europe

Lab Tested

Blended with Hemp seed oil
---
Why Opt for Omega-3 CBD Capsules?
These crucial supplements unite to safeguard your health, supporting heart and brain function.
Powerful combination of fish oil, hemp seed oil, and rosemary, expertly formulated to support healthy cell regulation, control cholesterol levels, and provide anti-inflammatory relief. 
These essential supplements play a crucial role in protecting your overall health and immune system. Contain EPA and DHA, promoting heart function and maintaining optimal brain health. 
The recommended daily intake of 250 mg of EPA and DHA ensures you receive their beneficial effects.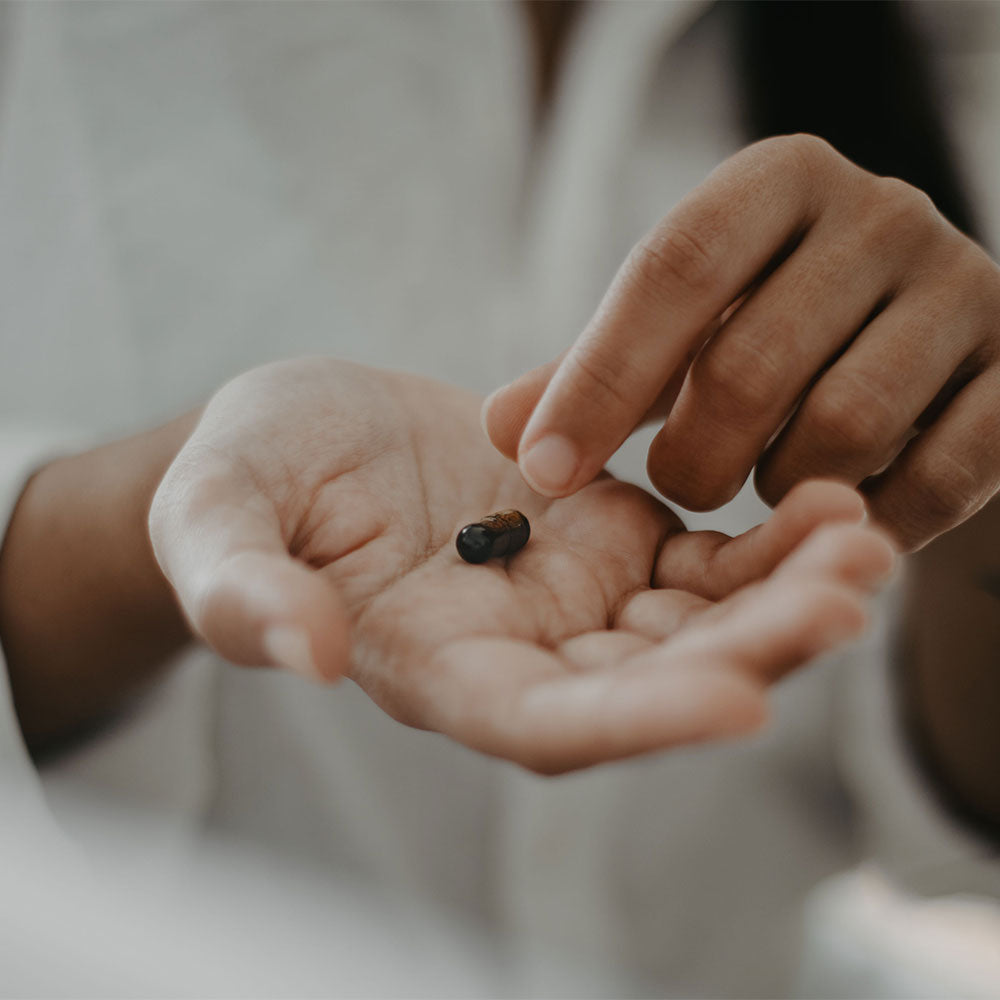 What Sets Reakiro's Omega 3 CBD Capsules Apart as a Potent Wellness Partner?
Fish Oil: Fish oil supplementation provides two main types of omega-3 fatty acids, eicosapentaenoic acid (EPA), and docosahexaenoic acid (DHA). These contribute to the normal function of the heart, maintenance of normal brain function, and normal vision.
EPA (Eicosapentaenoic Acid): EPA plays a crucial role in supporting the healthy regulation of cellular inflammation. It is known for its anti-inflammatory properties.
DHA (Docosahexaenoic Acid): DHA is the most abundant omega-3 found in the brain and is vital for maintaining nerve cell structure and function.
Omega 3: Omega-3 fatty acids, including EPA and DHA, are considered essential fatty acids as the body cannot efficiently produce them and must obtain them through the diet.
CBD: CBD and other cannabinoids interact with the receptors of the endocannabinoid system, contributing to its healthy regulation. They help maintain, grow, and repair receptors as needed.
Hemp Seed Oil: Derived from the seeds of the Cannabis sativa plant, hemp seed oil contains Omega Fatty Acids 3 and 6, offering various benefits such as cholesterol management, mood support, and joint health.
Rosemary: Rich in antioxidants and anti-inflammatory compounds, rosemary helps boost the immune system and improve blood circulation.
Tangerine Oil: Tangerine oil can assist in maintaining a healthy immune system when consumed internally, supporting overall well-being.
Reakiro's Quality Assurance: Elevating CBD Production
Comprehensive Oversight: We manage the entire production, from seed to packaging, ensuring high-quality outcomes
Advanced Extraction: Employing top-tier techniques to capture the full spectrum of valuable components
Meticulous Testing: Independent third-party labs rigorously assess our CBD Oil at every production phase
Excellence in Standards: Our CBD Oil is devoid of harsh chemicals, pesticides, and heavy metals, maintaining gluten-free, vegan-friendly, and non-GMO status
Full-Spectrum CBD: Less than 0.2% THC and rich in various cannabinoids like CBG, CBN, crafted from premium-grade EU-certified seeds
FAQ
How do Omega 3 CBD capsules support heart health?

Reakiro's Omega 3 CBD capsules are enriched with essential fatty acids, particularly EPA and DHA, which are known to promote heart function. These components help maintain healthy blood pressure, reduce triglyceride levels, and support overall cardiovascular wellness.
Can Omega 3 CBD capsules aid in brain function and cognition?

The Omega-3 fatty acids in our capsules, including DHA, are fundamental for brain health and cognitive function. They contribute to brain cell structure and aid in neurotransmitter function, potentially enhancing memory, focus, and overall cognitive performance.
How should I incorporate Omega 3 CBD capsules into my daily routine for maximum benefit?

For optimal heart and brain health benefits, we recommend taking the advised dosage of Omega 3 CBD capsules daily, preferably with a meal. Consistency is key to experiencing the positive effects on heart function, brain health, and overall well-being.
Can I take Omega 3 CBD Capsules alongside other medications or supplements?

While CBD is generally considered safe, it's essential to consult your healthcare provider before adding any new supplement, including Omega 3 CBD Capsules, especially if you're on other medications or have specific health conditions to ensure there are no potential interactions.