Regular price
€54,99
Sale price
€54,99
Unit price
per
Sale
Sold out
🌟 Buy 1 Get 1 FREE 🌟 use code - WINTER at the checkout
Elevate your CBD experience with our CBD Capsules 1500mg, specially crafted for experienced users seeking a higher dosage. Inside each soft gel capsule, you'll find a precisely measured 50mg of pure CBD, ensuring effortless and accurate dosage control. Discover the next level of wellness with SOOL CBD Capsules 1500mg. Ready to embark on a journey towards complete well-being?
Bottle

30 capsules

CBD

1500mg

Serving

1 capsule
Dosage & Instructions

Product information:

Serving size 1 capsule
Amount CBD per serving 50mg
Servings per container 30 

As a food supplement for adults, take 1 (one) capsule daily, preferably with a meal or as directed by a health care practitioner.

Storage: Do not refrigerate, store away from excessive heat, light, and humidity. This product is not intended to diagnose, treat, cure or prevent any disease.

Caution: Do not exceed the recommended daily dose. It is recommended that no more than 70 mg CBD is taken daily from all sources. This product is not intended for pregnant or lactating mothers.  Individuals taking medication or having any medical concerns should consult with a health practitioner prior to use. If any adverse reactions occur or if you feel unwell, discontinue use and seek medical advice. 

Food Supplements must not be used as a substitute for a balanced diet.

Keep out of the reach of children and pets.

*The THC level is below LOQ 0.0025% 
Ingredients

Hemp Seed Oil, Gelatin Capsule Shell, Hemp Extract derived Cannabidiol (CBD).
Reviews & Rating

Leave or Read our Reviews
Share
View full details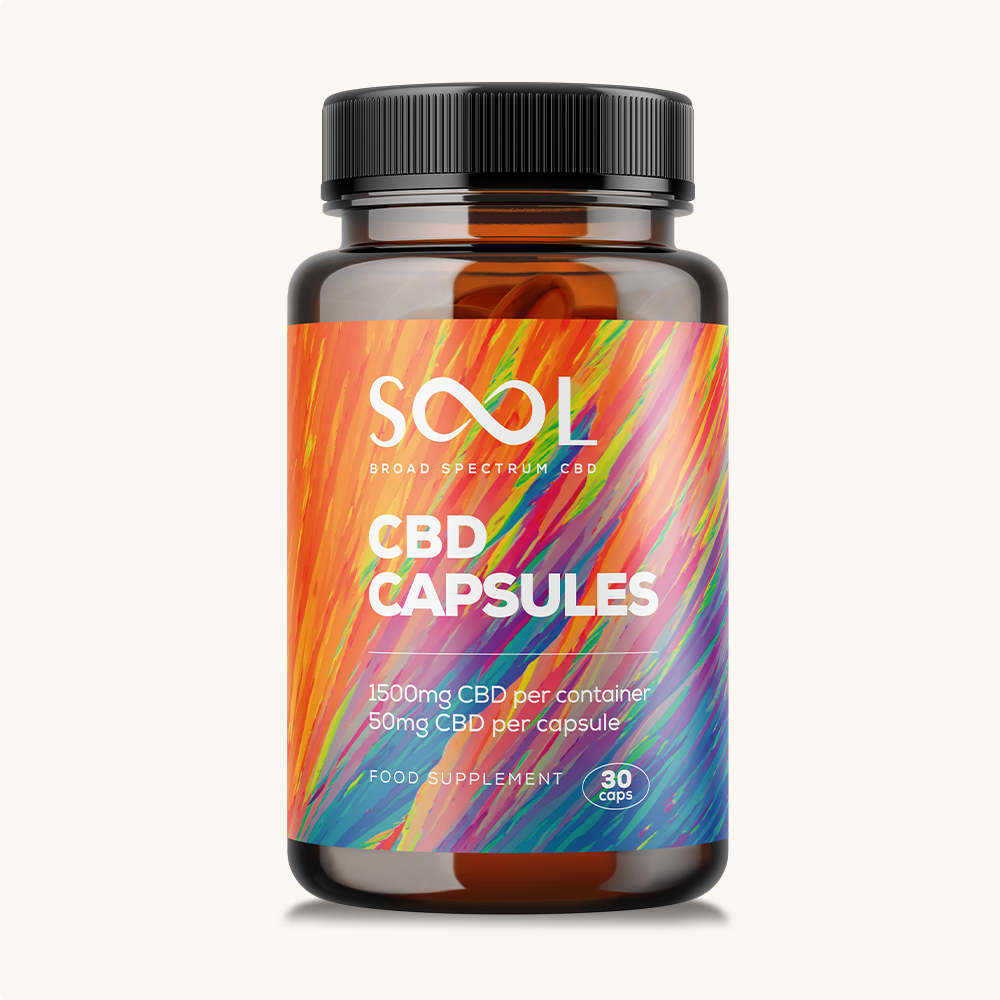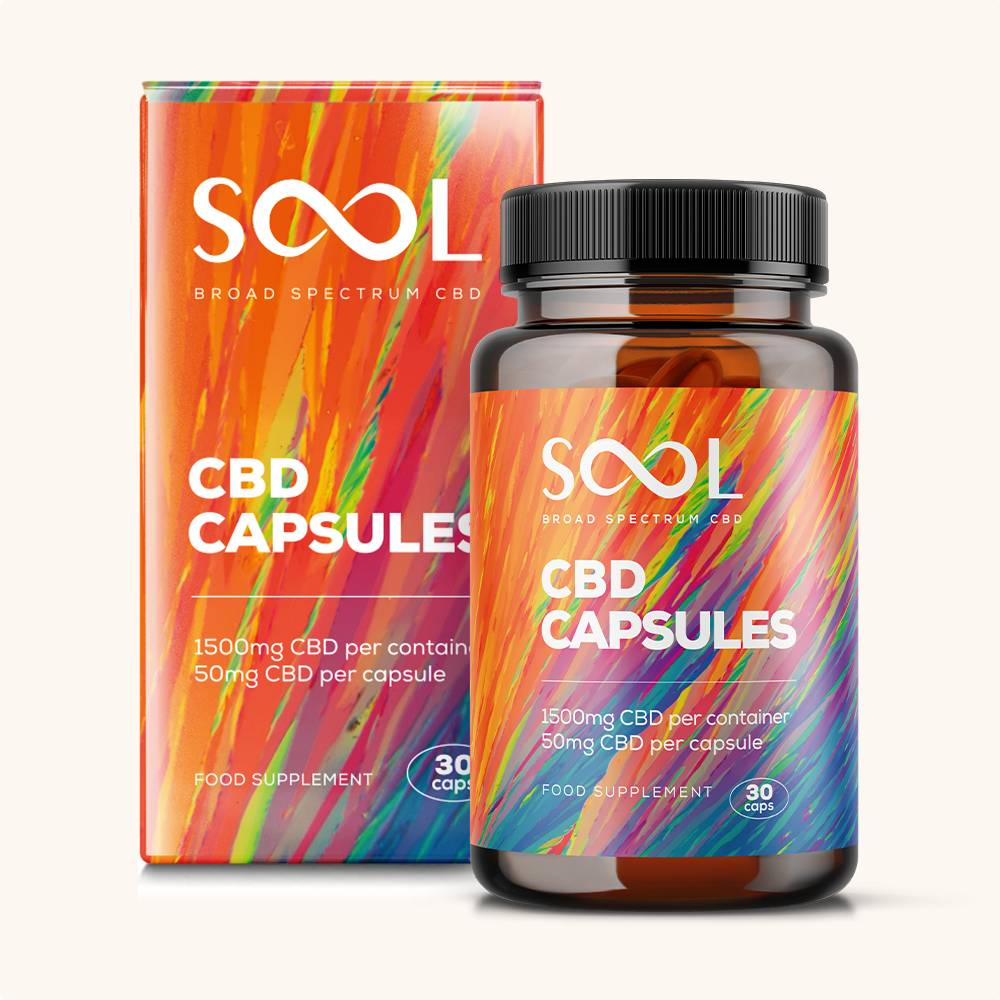 ---
Award Winning Brand

Made in Europe

Lab Tested

Blended with Hemp seed oil
---
Discover Pure Balance: CBD Capsules Broad Spectrum for Holistic Wellness
Broad Spectrum CBD Capsules offer THC-free* benefits while retaining a wide range of cannabinoids and terpenes. This preserves the entourage effect, enhancing overall therapeutic potential. They provide convenient, precise dosing and fit seamlessly into daily routines. Ideal for those concerned about THC, they offer peace of mind without compromising on efficacy. Broad spectrum CBD capsules provide a comprehensive and hassle-free way to reap CBD's benefits.
*The THC level is below LOQ 0.0025%
Exceptional CBD in Every Capsule: Where Quality Meets Potency
Ensuring Quality at Every Step

Innovative Extraction Techniques: Utilising state-of-the-art extraction methods to optimize efficiency and efficacy, resulting in top-tier CBD capsules quality
Comprehensive Oversight: Reakiro oversees every step of CBD capsule production, beginning with seed sourcing and extending to product design, precise formulation, and final packaging
Rigorous Quality Testing: Our CBD capsules undergo rigorous testing at various stages of production, conducted by trusted third-party labs to maintain the highest quality standards
Transparent Batch Identification: Each consumer-ready CBD capsule product is clearly labeled with traceable batch codes, promoting transparency and establishing a foundation of trust

Our Commitment to Excellence

Rigorous testing and commitment to high-quality standards ensure Quality, Consistency, and Transparency:

Meticulously Crafted Gel Capsules:

Produced in certified facilities adhering to HACCP and GMP standards, emphasizing care and precision

Thoughtful CBD Dosage:

Each soft gel capsule precisely contains 50mg of CBD, enabling careful and measured dosing
Daily intake of one capsule, makes it a convenient one-month supply per container

Health-Conscious Consumption:

Responsible consumption, with a maximum daily dosage recommendation of 70mg of CBD

THC Compliance:
THC-free* product (*The THC level is below LOQ 0.0025%)
CBD Capsules 1500mg 30pcs usage
To benefit from CBD capsules as a food supplement for adults, consume 1 capsule daily, best taken with a meal or as advised by a healthcare professional. The CBD within the capsules is absorbed through the digestive system, providing a gradual release into the bloodstream for a lasting impact. Remember, these capsules are not a substitute for a balanced diet and should be used accordingly.
Collapsible content
Read more about SOOL CBD Gel Capsules 1500mg 30pcs

Opting for CBD capsules, particularly the broad spectrum variant, assures THC absence* while retaining a diverse range of cannabinoids and terpenes.

In the decision between broad spectrum and full spectrum CBD, neither can be definitively labeled as 'better'; the choice depends on what suits you personally. Broad spectrum CBD's main appeal lies in its 0% THC* promise. While full spectrum CBD, containing a minimal amount of THC, doesn't induce psychoactive effects, some individuals prefer avoiding any THC presence due to potential concerns, especially related to drug testing. Athletes, for instance, often opt for broad spectrum CBD to ensure they pass drug tests. This choice is also favored by those sensitive to THC.

SOOL CBD capsules offer the essence of nature in a convenient, travel-friendly form. The premeasured capsules ensure consistency and ease in tracking your CBD intake, allowing you to incorporate CBD seamlessly into your day, wherever you are. Letting nature guide us, these capsules invite us to reconnect and find balance amidst the chaos of modern life.

*The THC level is below LOQ 0.0025%