Regular price
€24,99
Sale price
€24,99
Unit price
per
Sale
Sold out
🌟 Buy 1 Get 1 FREE 🌟 use code - WINTER at the checkout
Delicately designed for first-time users, this entry-level capsule offers a seamless introduction to the world of CBD. SOOL capsules capture the very best extract from hemp plants, expertly placed into one easy-to-take capsule, ensuring a convenient and precise CBD intake. Experience holistic wellness with SOOL and embrace CBD as your partner in achieving a healthier, happier you. Your journey to a better you starts now!
Bottle

30 capsules

CBD

450mg

Serving

1 capsule
Dosage & Instructions

Product information:

Serving size 1 capsule
Amount CBD per serving 15mg
Servings per container 30 

As a food supplement for adults, take 1 (one) or 2 (two) capsule daily, preferably with a meal or as directed by a health care practitioner.

Storage: Do not refrigerate, store away from excessive heat, light, and humidity. This product is not intended to diagnose, treat, cure or prevent any disease.

Caution: Do not exceed the recommended daily dose. It is recommended that no more than 70 mg CBD is taken daily from all sources. This product is not intended for pregnant or lactating mothers. Individuals taking medication or having any medical concerns should consult with a health practitioner prior to use. If any adverse reactions occur or if you feel unwell, discontinue use and seek medical advice. 

Food Supplements must not be used as a substitute for a balanced diet.

Keep out of the reach of children and pets.

*The THC level is below LOQ 0.0025% 
Ingredients

Hemp Seed Oil, Gelatin Capsule Shell, Hemp Extract derived Cannabidiol (CBD).
Reviews & Rating

Leave or Read our Reviews
Share
View full details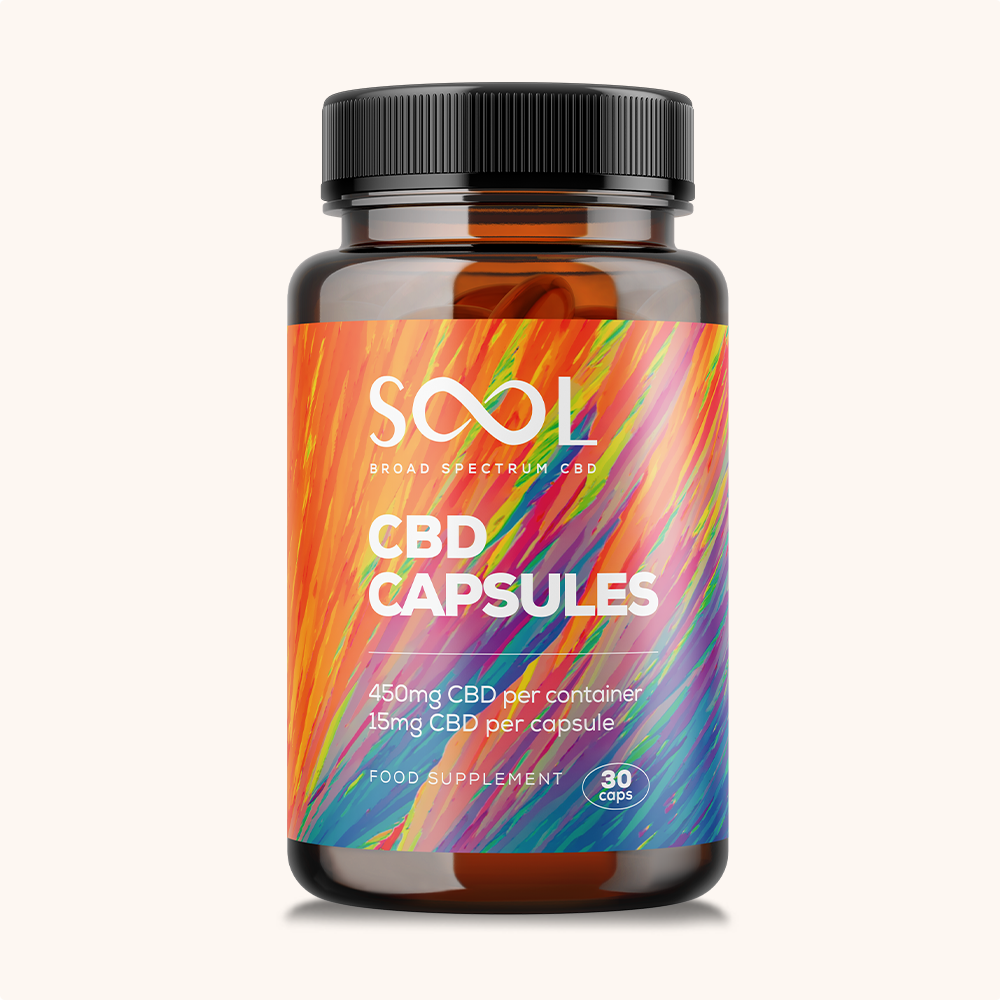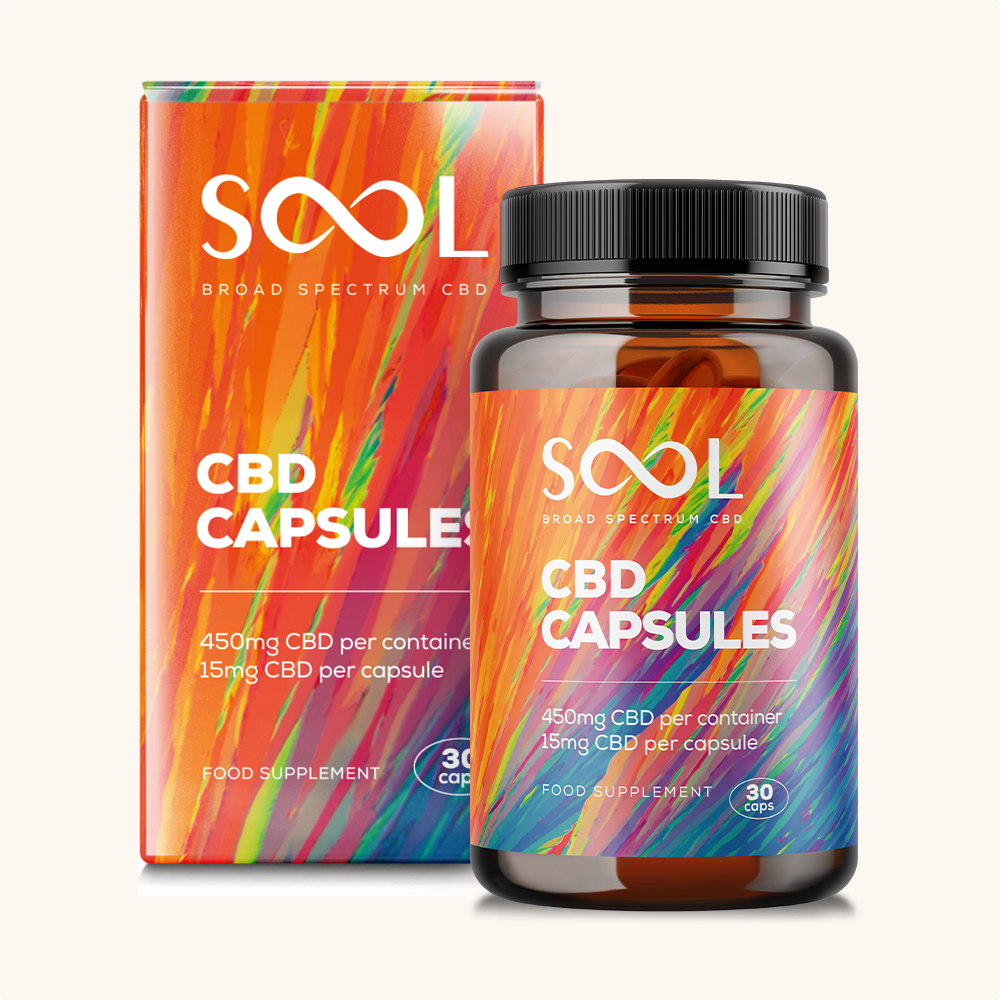 ---
Award Winning Brand

Made in Europe

Lab Tested

Blended with Hemp seed oil
---
Total Harmony, Naturally: Broad Spectrum CBD Capsules for Holistic Wellness
The decision to purchase CBD capsules, particularly the broad spectrum variety, guarantees THC absence* while preserving a broad spectrum of cannabinoids and terpenes. Broad spectrum CBD capsules facilitate straightforward and precise dosing, easily fitting into one's everyday routine. Those cautious of THC exposure find reassurance in these capsules, striking a balance between efficacy and tranquility. Selecting broad spectrum CBD capsules offers a comprehensive and convenient strategy to unlock the potential benefits of CBD.
*The THC level is below LOQ 0.0025%
Crafting Excellence, One Capsule at a Time: Pure, Potent, and Precise
Ensuring Quality at Every Step

Advanced Extraction: Employing state-of-the-art extraction techniques to maximize efficiency and potency, securing the highest quality CBD extraction
Comprehensive Oversight: From seed selection to product design, exact formulation, and packaging, Reakiro manages and oversees every step of the CBD capsule production process
Thorough Quality Checks: Our CBD capsules undergo meticulous testing during every stage of production, meticulously examined by reputable third-party labs to maintain the industry quality standards
Transparent Batch Identification: All consumer-facing CBD capsule products feature easily identifiable batch codes, enhancing transparency and fostering trust with our customers

Our Commitment to Excellence

Rigorous testing and commitment to high-quality standards ensure Quality, Consistency, and Transparency:

Thoughtful CBD Dosage:

Each soft gel capsule is precisely dosed with 10mg of CBD, allowing for careful and measured consumption
Recommends a daily intake of 1 to 2 capsules, ensuring a convenient one-month supply per container

Meticulously Crafted Gel Capsules:

Manufactured in certified facilities that adhere to HACCP and GMP standards, highlighting care and precision in production

Stringent THC Compliance:

THC-Free* Product (*The THC level is below LOQ 0.0025%)

Health-Conscious Consumption:
Advocates for responsible CBD consumption, suggesting a maximum daily dosage of 70mg of CBD
SOOL CBD Capsules usage 450mg 30pcs
As a food supplement for adults, take 1 to 2 capsules daily, preferably with a meal or as directed by a health care practitioner. CBD capsules are ingested orally and absorbed through the digestive system, gradually releasing CBD into the bloodstream for a sustained effect. Remember, food supplements like CBD capsules should not replace a well-rounded diet.
Collapsible content
Read more about SOOL CBD Gel Capsules 450mg 30pcs

Choosing CBD capsules, especially the broad spectrum variety, assures you of a THC-free* experience while preserving a wide array of cannabinoids and terpenes.

When comparing broad spectrum and full spectrum CBD, it's important to note that neither can definitively claim superiority; the choice depends on your personal preferences. Broad spectrum CBD stands out primarily due to its 0% THC* commitment. While full spectrum CBD, with its minimal THC content, does not induce psychoactive effects, some opt to avoid even the slightest THC presence due to potential concerns, especially regarding drug tests. Athletes and individuals sensitive to THC often choose broad spectrum CBD for this reason.

SOOL CBD capsules grant you access to nature's essence on-the-go, allowing you to conveniently carry a bottle of premeasured capsules that won't disrupt your CBD routine wherever you are during your day. Furthermore, the consistent dosage ensures easy tracking of your CBD intake, giving you the ability to adjust as needed.

*The THC level is below LOQ 0.0025%