Regular price
€49,99
Sale price
€49,99
Unit price
per
Sale
Sold out
🌟 Buy 1 Get 1 FREE 🌟 use code - WINTER at the checkout
Discover SOOL CBD Oil 1500mg – tailored for experienced CBD enthusiasts seeking robust potency. Certified by The Vegan Society and Double Tested to ensure uncompromised quality, this premium CBD oil is thoughtfully made using 100% natural ingredients, offering a pure and powerful wellness journey. Experience Active Wellness Soolutions with SOOL CBD Oil 1500mg
Bottle

10 ml

CBD

1500mg

Serving

5 drops
Dosage & Instructions

Product information:

Serving size 5 drops
Amount CBD per serving 25 mg
Servings per container 60

For optimum results, take 5 drops under the tongue twice a day and hold for at least one minute, then swallow. Shake well before use.

Storage: Do not refrigerate, store away from excessive heat, light, and humidity. This CBD product is not intended to diagnose, treat, cure or prevent any disease.

Caution: Do not exceed the recommended daily dose. It is recommended that no more than 70 mg broad-spectrum CBD is taken daily from all sources. This product is not intended for pregnant or lactating mothers. Individuals taking medication or having any medical concerns should consult with a health practitioner prior to use. If any adverse reactions occur or if you feel unwell, discontinue use and seek medical advice. 

Food Supplements must not be used as a substitute for a balanced diet.

Keep out of the reach of children and pets.

*The THC level is below LOQ 0.0025%
Lab Results (COA)

Batch 0623

Batch 1222

Batch 0622
Ingredients

Hemp Seed Oil, Hemp Extract derived Cannabidiol (CBD).
Reviews & Rating

Leave or Read our Reviews
Share
View full details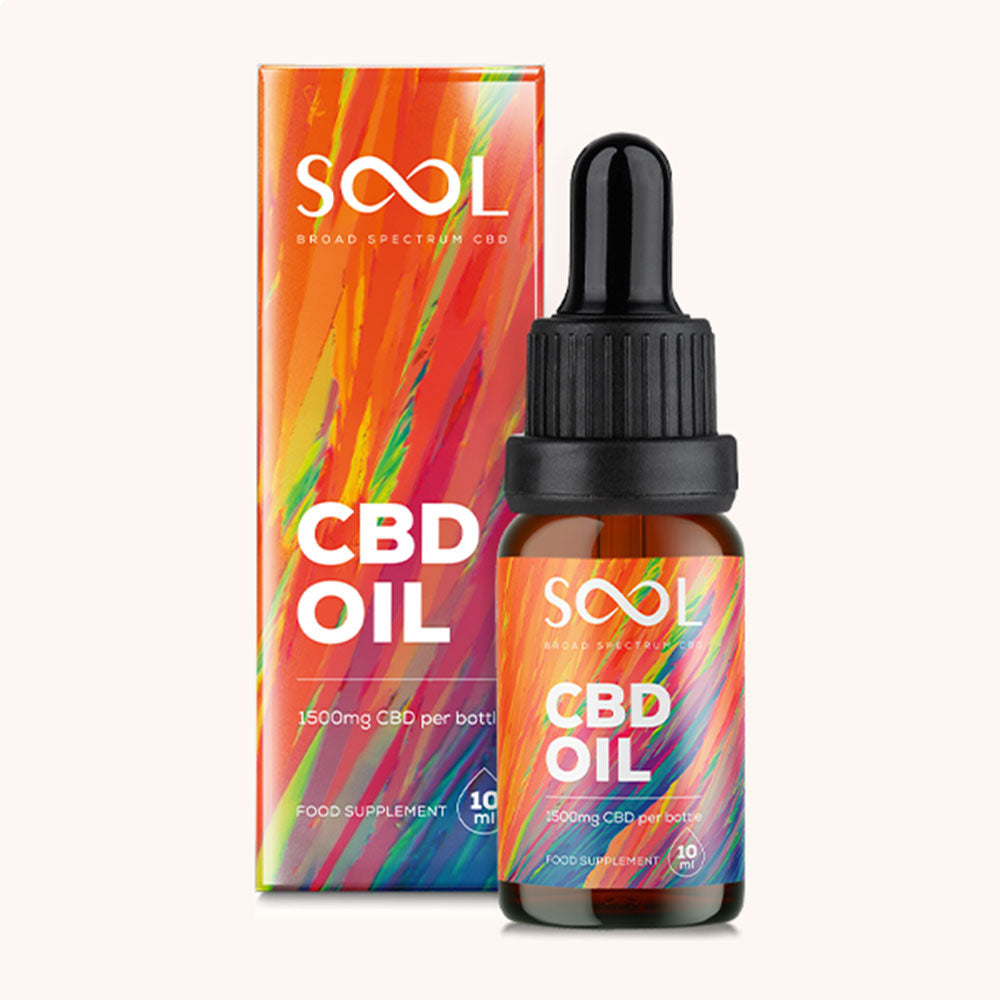 ---
Award Winning Brand

Vegan Friendly

Lab Tested

Blended with Hemp seed oil
---
Comprehensive Wellness Made Easy: Embrace SOOL THC-Free* CBD with Broad Spectrum Oil
When you decide on our Broad Spectrum CBD Oil, you're opting for a holistic wellness remedy that harmoniously blends cannabinoids, terpenes, and flavonoids—absent of THC*. It caters to individuals seeking a comprehensive CBD journey to bolster their general health and peace of mind, making it effortlessly incorporated into their everyday routine.
*The THC level is below LOQ 0.0025%
Transparency in Production: Unveiling the Crafting of Our Broad Spectrum CBD Oil
Ensuring Quality at Every Step

Seed to Sale Excellence: Carefully crafted by Reakiro GMP/HACCP/GHP certified manufacturer, ensuring a seamless journey from seed to the final product
Optimal Seed Sourcing: Meticulously selected seeds are sourced to create this potent CBD formulation, ensuring the highest quality and effectiveness
Traceability at Its Core: Each consumer product bears traceable batch codes, offering transparency and assurance of a genuine, reliable CBD experience
Verified Purity: Rigorous 3rd party lab testing guarantees the absence of harsh chemicals, pesticides, and maintains precise cannabinoid levels, upholding the product's purity and safety

 Our Commitment to Excellence

Rigorous testing and commitment to high-quality standards ensure Quality, Consistency, and Transparency:

Potent CBD Experience: Tailored for the experienced consumer, offering a high-potency CBD formula for maximum impact
Certified Excellence: Certified by The Vegan Society and Double Tested to ensure the highest standards of quality and purity
100% Natural Ingredients: Made from pure, natural ingredients, providing a clean and authentic high-potency CBD experience
Manufactured to Stringent Standards: Produced under HACCP and GMP certification, aligning with the industry's highest standards of quality and safety
Strict THC Compliance: A THC-Free* product. (*The THC level is below LOQ 0.0025%)
SOOL CBD Oil 1500mg Broad Spectrum usage
To maximize the effectiveness of SOOL CBD Oil 1500mg, simply place the drops under your tongue and hold for 1-2 minutes before swallowing. This method (through the mucous membranes) ensures a relatively fast absorption of CBD directly into the bloodstream, optimising its effectiveness.
We recommend beginning with 5 drops, equating to 25mg of CBD, and adjusting as needed. It's essential not to exceed 70mg of CBD per day for optimal results, allowing you to harness the power of this concentrated CBD oil and embark on a journey towards well-being.
Collapsible content
Read more about SOOL Broad-spectrum CBD Oil 1500mg

Choosing to buy broad-spectrum CBD oil can be a strategic decision based on a variety of factors, including personal preferences, health goals, and sensitivities. Here are some reasons why individuals opt for broad-spectrum CBD and how it interacts with the body:

THC-Free* Option: Broad-spectrum CBD oil provides the benefits of the entourage effect—the combined benefits of various cannabinoids and natural compounds present in hemp—without any THC*. For individuals who want to avoid THC due to legal, occupational, or personal reasons, this is an ideal choice.
Preserves Entourage Effect: While broad-spectrum CBD oil lacks THC*, it still retains a wide range of cannabinoids, terpenes, flavonoids, and other beneficial compounds found in hemp. These components work synergistically to enhance the overall therapeutic effects, known as the entourage effect.
Potential Health Benefits: Broad-spectrum CBD is believed to offer potential health benefits similar to those of full-spectrum CBD, such as relief from pain, anxiety, inflammation, and more. Its interaction with the body's endocannabinoid system (ECS) helps in maintaining balance and overall wellness.

In terms of how broad-spectrum CBD interacts with the body, it primarily interacts with the body's ECS, a complex system of receptors found throughout the body. The ECS plays a crucial role in maintaining various bodily functions, including mood, appetite, pain perception, immune response, and more.

CBD interacts with ECS receptors (CB1 and CB2) to promote balance and homeostasis within the body. It may help regulate inflammation, alleviate pain, reduce anxiety, improve sleep, and support overall well-being. 

Explore our meticulously selected CBD research database, showcasing the scientifically validated benefits of CBD. Our mission is to furnish individuals with knowledge supported by evidence, enabling them to make educated decisions concerning their well-being. Stay updated and unearth the potential of CBD through insights substantiated by research.

*The THC level is below LOQ 0.0025%