Regular price
€74,99
Sale price
€74,99
Unit price
per
Sale
Sold out
🌟 Buy 1 Get 1 FREE 🌟 use code - WINTER at the checkout
CBD Oil 3000mg Broad Spectrum — the peak of potency in the SOOL range, tailored for those with a strong CBD tolerance. Made exclusively from 100% natural ingredients and proudly certified by The Vegan Society, it offers the complete spectrum of beneficial cannabinoids. Elevate your wellness journey and experience the pure potency of CBD with SOOL
Bottle

30 ml

CBD

3000mg

Serving

5 drops
Dosage & Instructions

Product information:

Serving size 5 drops
Amount CBD per serving 16,7 mg
Servings per container 180

For optimum results take 5 drops high strength CBD oil 3000mg under the tongue twice a day and hold for at least one minute, then swallow. Shake well before use.

Storage: Do not refrigerate, store away from excessive heat, light, and humidity. This product is not intended to diagnose, treat, cure or prevent any disease.

Caution: Do not exceed the recommended daily dose. It is recommended that no more than 70 mg pure CBD is taken daily from all sources. This product is not intended for pregnant or lactating mothers. Individuals taking medication or having any medical concerns should consult with a health practitioner prior to use. If any adverse reactions occur or if you feel unwell, discontinue use and seek medical advice. 

Food Supplements must not be used as a substitute for a balanced diet.

Keep out of the reach of children and pets.

*The THC level is below LOQ 0.0025%
Lab Results (COA)

Batch 0623

Batch 1222

Batch 0622
Ingredients

Hemp Seed Oil, Hemp Extract derived Cannabidiol (30% CBD).
Reviews & Rating

Leave or Read our Reviews
Share
View full details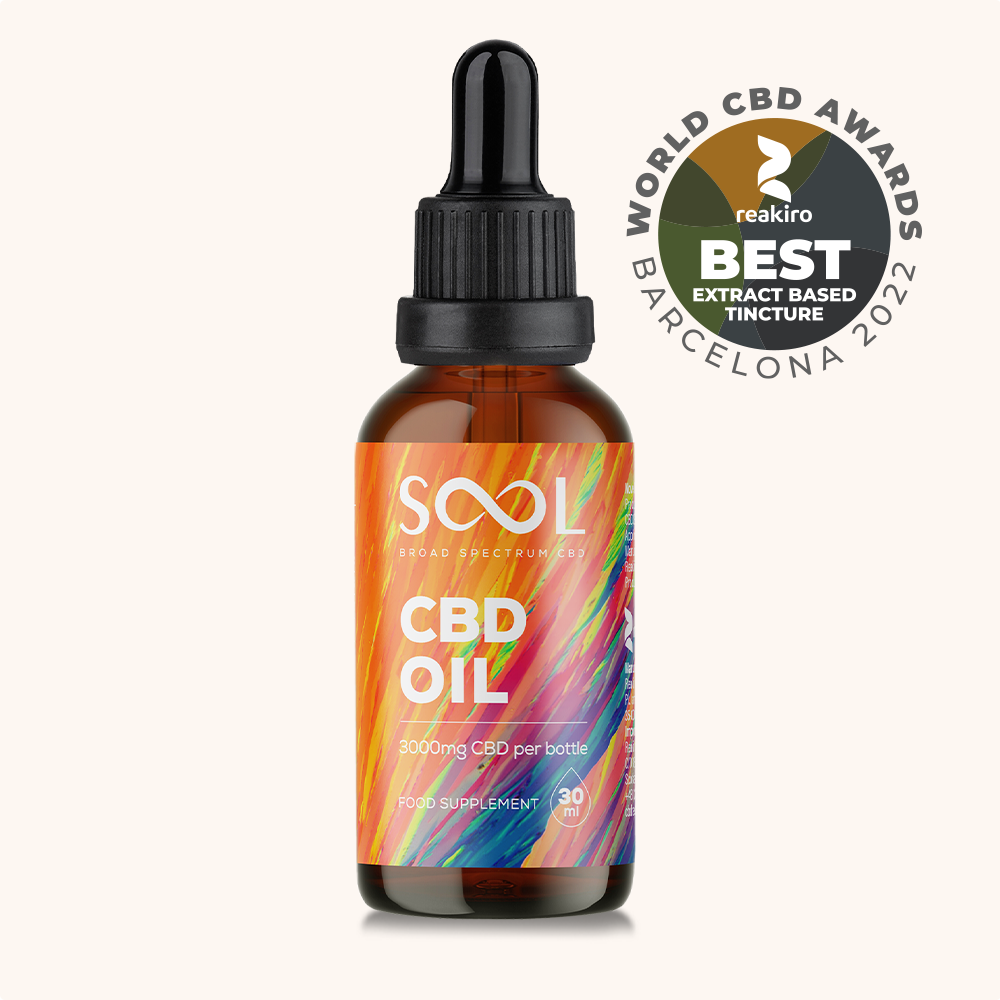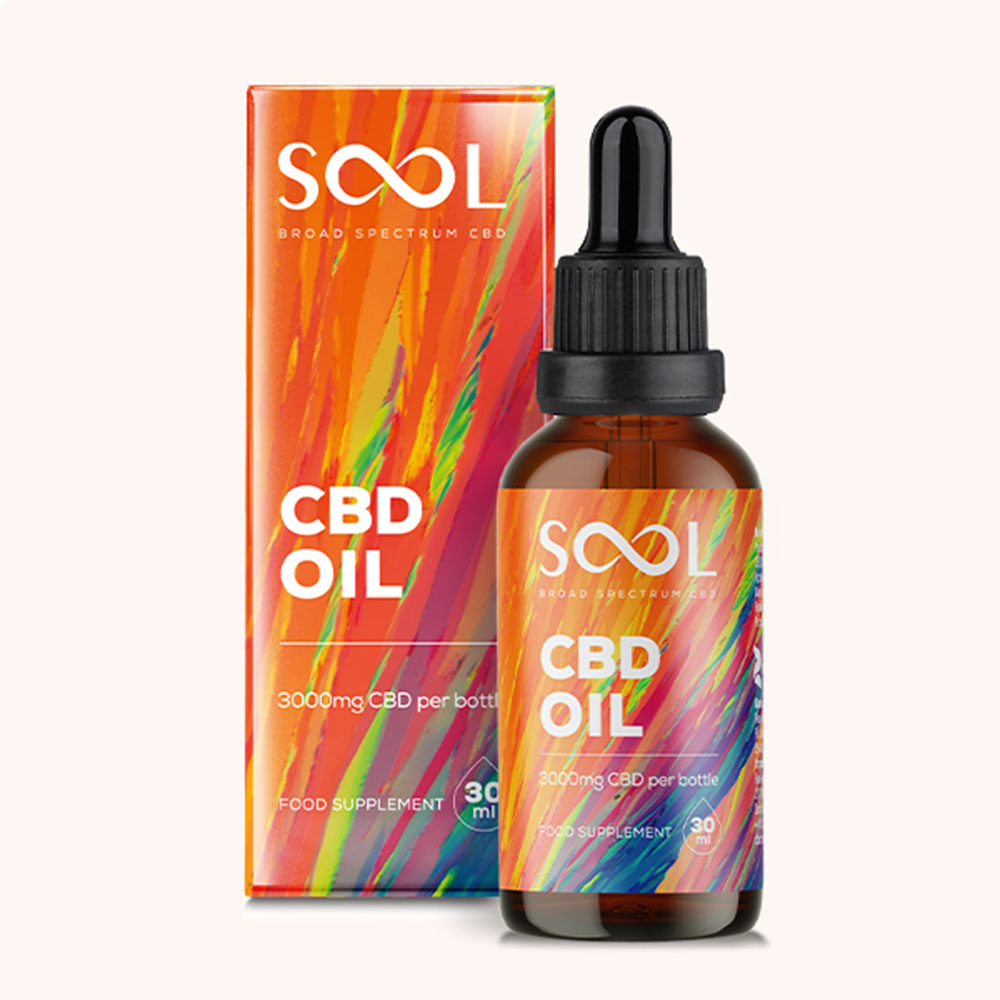 ---
Award Winning Brand

Vegan Friendly

Lab Tested

Blended with Hemp seed oil
---
SOOL CBD Oil: Unlocking Holistic Well-Being with Broad Spectrum Potency
When purchasing our Broad Spectrum CBD Oil, you're investing in a comprehensive wellness solution that delivers the entourage effect of various beneficial cannabinoids, terpenes, and flavonoids—all without the presence of THC* It's a choice for those seeking a holistic CBD experience that supports their well-being and peace of mind.
*THC is below LOQ 0.0025%
From Plant to Bottle: The Journey of Creating our SOOL Broad Spectrum CBD Oil
 Ensuring Quality at Every Step

Each consumer-ready CBD oil is marked with batch codes, promoting transparency and building trust with our customers
We use the latest extraction technology to optimise efficiency and potency, ensuring the highest quality CBD extraction
From selecting the seeds to crafting the product, precise formulation, and packaging, Reakiro meticulously oversees every stage of CBD oil production
Our CBD oil undergoes strict testing to assure superior quality and purity, providing a trustworthy product for your wellness

Our Commitment to Excellence

Rigorous testing and commitment to high-quality standards ensure Quality, Consistency, and Transparency:

CBD designed for those with a high CBD tolerance: 5 drops, equal to 16.7mg CBD 
Produced in certified facilities adhering to HACCP and GMP standards, reflecting precision and excellence in manufacturing
THC-Free* Product (*THC level maintained below LOQ 0.0025%)
Certified by The Vegan Society, reflecting our commitment to ethical and plant-based principles, ensuring a product aligned with conscious choices
SOOL CBD Oil 3000mg Broad Spectrum usage
Experience the epitome of CBD potency with SOOL's CBD Oil 3000mg Broad Spectrum, thoughtfully designed for those with a robust CBD tolerance. For optimal results, simply place the drops under your tongue and hold for 1-2 minutes before swallowing. Through this direct mucous membrane absorption, CBD swiftly enters your bloodstream, maximizing its efficacy. Start with 5 drops, delivering 16.7mg of CBD, and adapt the dosage as necessary, while ensuring you remain within the daily 70mg CBD limit for a secure and rewarding journey towards well-being.
Collapsible content
Read more about SOOL Broad-spectrum CBD Oil 3000mg

Choosing to try broad-spectrum CBD oil can be a strategic decision shaped by diverse considerations, including personal preferences, health objectives, and sensitivities. Here are a few explanations for the popularity of broad-spectrum CBD and how it interacts with the human body:

THC-Free Option: Broad-spectrum CBD oil delivers the benefits of the entourage effect—a collective enhancement from various cannabinoids and natural components in hemp—without any THC*. This makes it an attractive choice for those seeking to steer clear of THC for legal, professional, or personal reasons.
Preserves the Entourage Effect: Despite the absence of THC*, broad-spectrum CBD oil still holds a wide range of cannabinoids, terpenes, flavonoids, and other valuable hemp-derived compounds. These elements collaborate to amplify the overall therapeutic effects, known as the entourage effect.
Potential Health Benefits: Broad-spectrum CBD is believed to provide potential health benefits akin to full-spectrum CBD, such as relief from pain, anxiety, inflammation, and more. Its interaction with the body's endocannabinoid system (ECS) assists in sustaining equilibrium and overall well-being.

Concerning how broad-spectrum CBD interacts with the body, its primary engagement occurs with the ECS, a complex network of receptors dispersed throughout the body. The ECS holds a pivotal role in governing various bodily functions, including mood, appetite, pain perception, immune response, and more. CBD interacts with ECS receptors (CB1 and CB2) to promote equilibrium and homeostasis within the body. This interaction may aid in managing inflammation, alleviating pain, reducing anxiety, enhancing sleep, and supporting overall well-being.

Explore our curated CBD research collection, showcasing scientifically substantiated benefits of CBD. Our aim is to empower individuals with evidence-based knowledge, making informed wellness choices. Stay informed and discover the potential of CBD through research-backed insights.

*The THC level is below LOQ 0.0025%